Search Engine Optimization (SEO) is an extremely important part of the web design and development process and it continues to be very important after site launch. SEO does not stop when your website goes live. Let me rephrase that; SEO SHOULD NOT stop when your website goes live. All too often SEO is thought of as a one shot deal; the reality is very different.
SEO SHOULD NOT stop when your website goes live.
The graphic below shows just some of the areas of your search engine strategy you can easily control with the right service provider.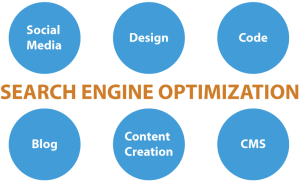 Here at Thinkbean we have been successfully optimizing websites for search engines and end users for over 10 years. Our team of knowledgable SEO experts comply with the guidelines and best practices outlined by the major search engines to ensure that your internet presence is enhanced and not jeopardized by using underhand or "black hat" SEO tactics.
SEO can be boiled down into two main areas: onsite and offsite optimization
Onsite optimization is focused on the content displayed on your website.
Offsite optimization is focused on the external factors affecting your website.
Both are extremely important and we area able to leverage a variety of SEO strategies and techniques to better position your company in the search engine results pages (SERPs).
Contact us to find out how we can elevate your ranking and help you achieve your business goals.